Online orders for
your restaurant
Webstaurant is the best website for independent restaurants. All inclusive for just 5% commission and a win-win for you and your customers.
Your restaurant brand
Customize your restaurant online shop and menu with your logo and brand colors. Stand out from the crowd with a beautiful and easy to use website that the big platforms can't offer.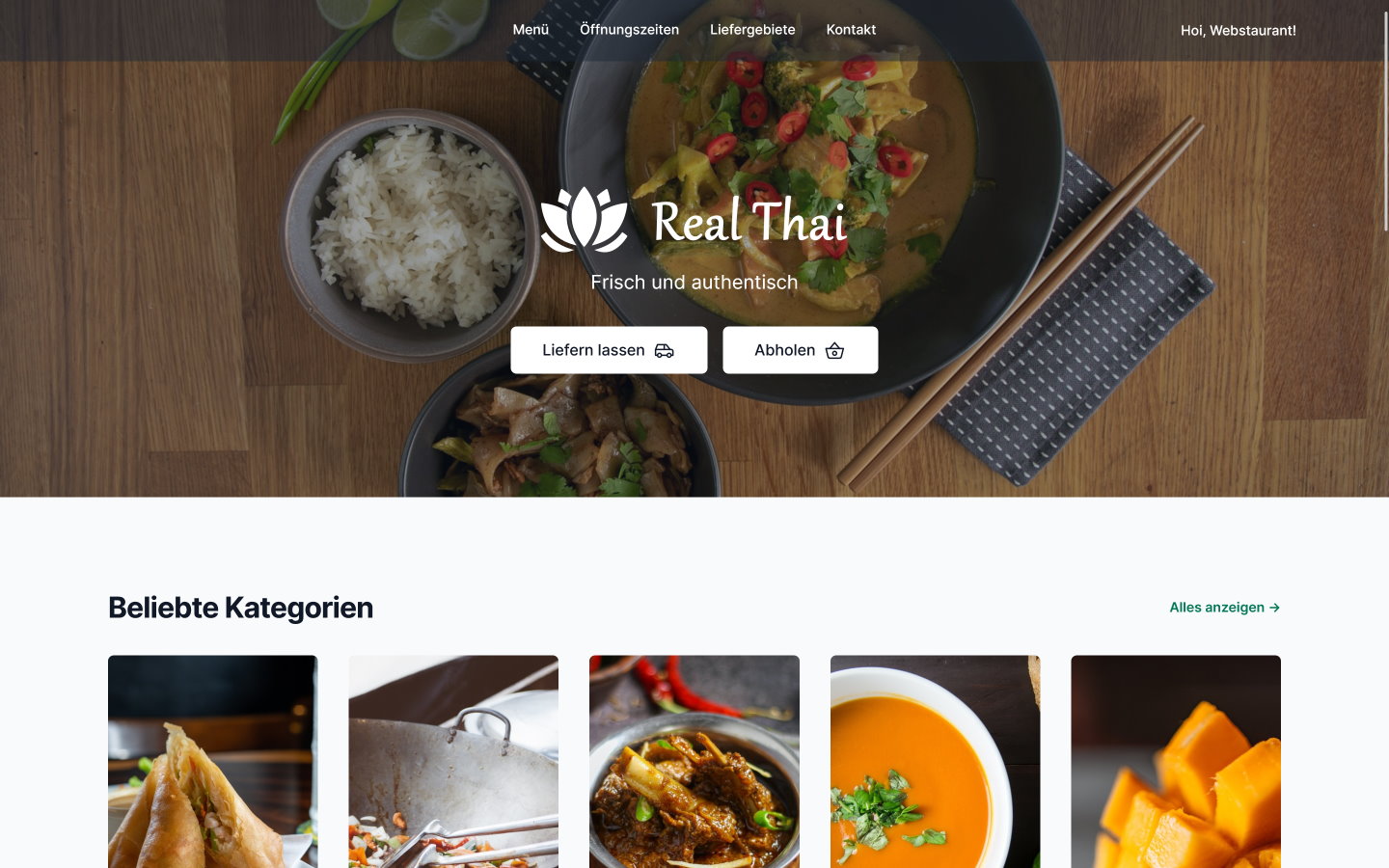 Beautiful online menu
Manage unlimited menu items with addons and upsells in a beautiful design. Get more orders thanks to the simple interface that lets your customers check out faster.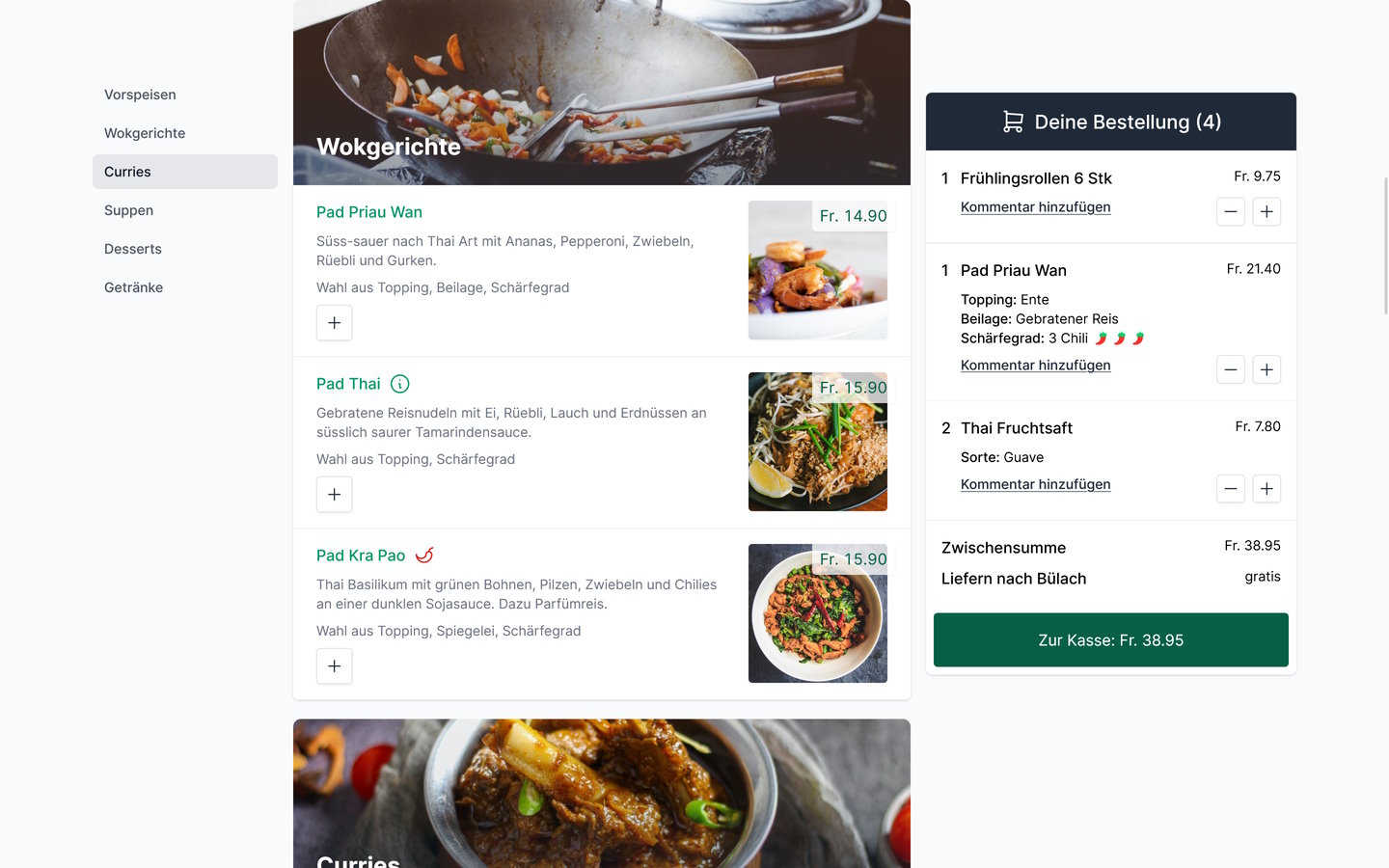 All inclusive
Everything you need to start accepting orders
Start your online restaurant in minutes, here's what's included in one simple price.
Fast mobile website
A superfast modern website that lets customers order quickly and easily what they want, when they want it.
Unlimited menu items
Add as many categories and menu items each with their own prices, pictures, add-ons and more.
Low commission
Stop giving away your earnings. Webstaurant charges 5%, all inclusive. (CHF 20/month base fee)
Online payment
Allow customers to pay online with the most popular payment methods like TWINT and credit cards at no extra cost.
No lock-in
Unlike other platforms, Webstaurant is confident in its services and doesn't force you to do anything.
Your own drivers
Webstaurant is for restaurants with their own delivery. We help you get them to their destination.
All-in-one platform
Your partnership with Webstaurant gets you and your business further. Explore more of our features and offers.
Fast and modern website

Your website is often the first thing a customer sees from your restaurant, first impressions matter.

Mobile website

Customers don't want to install yet another app on their phone, your website works even better as a progressive web app (PWA).

Special offers

Create limited-time menu items and give coupons to loyal customers.

Easy customer signup

New clients can sign up with a single click, place and pay for their first order at your restaurant in a few minutes.

Order manager

Check incoming orders on an easy to use interface and send them to your printer.

Multiple locations

Own more than one restaurant? Easily manage multiple locations from your account.

Reporting

Check sales records and more in our advanced reporting dashboard.

Made in Switzerland 🇨🇭

Proudly based in Zürich, support for your online business is always nearby!
Manage your orders
Use our modern Android tablet or desktop application to accept incoming orders, update customer status and print receipts.
Keep customers updated with the order status and navigate your drivers with our included delivery app.
Pricing calculator
Webstaurant charges a small commission of just 5% for each placed order, allowing savings of over 60% compared to big platforms!
And this is just the beginning. Large platforms like Just Eat are starting to increase their fees for no additional benefit to you!
See how much you could save by using this calculator form.
The Webstaurant base fee is Fr. 20 per month. Your restaurant website will be regularly upgraded with new exciting features for both you and your customers.
About the team
We're a passionate about creating the best websites for restaurants everywhere.
Julian Wachholz

Founder / CEO

Julian is a software engineer with a passion for food and building products that make a difference. He has worked in the industry for over 10 years and wants to create a sustainable solution for independent restaurants.
Ready to become independent?
Contact us to start today.